ARRL 160 CW 2001
Contest Station
WB9Z - IL
Check out the photos below
Photos by Lori Rosalius and Clay N9IO

---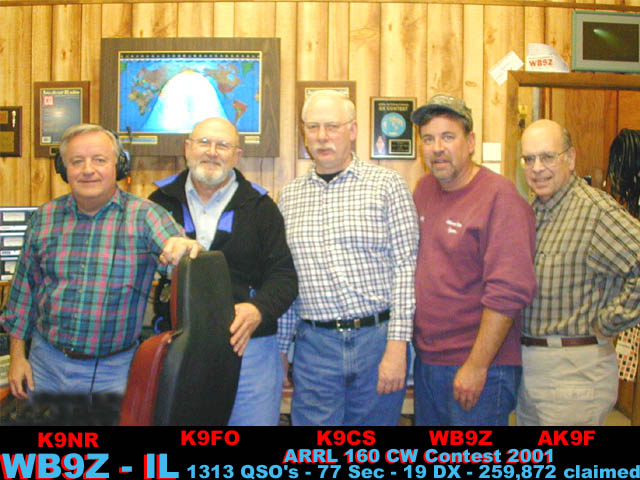 L/R Don K9NR, Will K9FO, Carl K9CS, Jerry WB9Z, Howard AK9F.
It has always been a pleasure to operate with
Howard, Don, Carl and Will. We have been
doing the ARRL 160 CW together from here
for many years. Last year we were #1 in the
World in the multi-operator category and we
have always been in the top 5 World most years.
We won the contest one other time back in the 80's.
This is usually the only contest I multi-op all year
and I always look forward operating this one
with my good friends.
The furthest DX in the contest has to be
my friend, Mike VK6HD,
who I have visited in person
on the west coast of Australia at
a distance of 10,000 miles.
Jerry, WB9Z

Carl K9CS at the keyboard.
Main station:
Yaesu FT-1000mp Mark V
amplifier is a Command Technologies 2500
Transmit antenna is a AK9F designed ,160' tall vertical tower, series fed on a base insulator, with 120 buried radials totaling around 30,000' of wire.

On receive we had:
2 phased 880' phased beverages on Europe
1 1100' beverage on Europe
1 1100' beverage on Asia
1 1000' beverage going west
1 1000' beverage going east
1 1000' beverage going SE
1 600' beverage going SW
1 600' beverage going South
The spotting radio was my old reliable TS-930S which has seen more contests than I can remember, and has won several 160 meter awards.
Antennas on the 930 were:
1 pennant going west
1 pennant going south
plus either NE or SE beverage could be easily selected when not in use by the main station.

Don K9NR and Jerry WB9Z
listen in on the spotting radio.
Thanks for viewing these pages.
73' see you down the log!
Jerry Rosalius, WB9Z
Go SMC!
---


Comments on the
"WB9Z 160 CW 2001 Page?"
E-Mail Jerry, WB9Z
jerry@daca.net

E-Mail KARS Webmaster at
webmaster@w9az.com
Latest update December 26, 2001
---

This website is written in FRAMES.
If you are viewing this page as a separate page
please CLICK HERE for the KARS HOMEPAGE !
This usually occurs when you follow a link
from a search at a search engine website.