WP2/WB9Z DXPedition to St Croix, U.S.V.I.
---

Page 1 of 2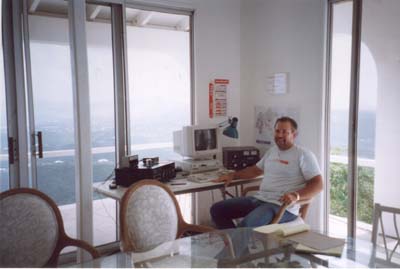 DXing with a 360 deg view of the Caribbean!
Come take a short photo tour with Jerry, WB9Z
on his DXPedition / Vacation (Holiday) in St Croix.
This is the operating position of WP2/WB9Z
Christmas week '98 in St Croix, U.S. Virgin Islands.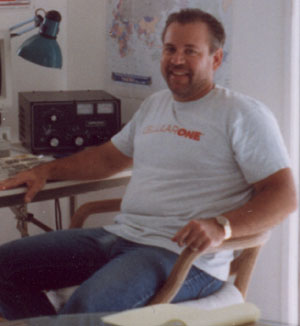 Jerry WB9Z, of Crescent City, Illinois - USA
Jerry is a top contender on DX rolls everywhere.
WB9Z is heard on all bands but considers
top band (160 meters) to be his preference.
Jerry and wife Lori own Midwest Antenna Systems
(Commercial tower and antenna systems business)
Based out of Crescent City, IL.
A long time area ham and major contributor
to KARS great repeater system.
We are very proud to say Jerry
is a life member of KARS.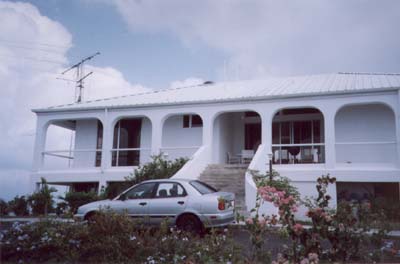 Pictured above is WINDWOOD,
the highest house on St. Croix.
The villa is located 900' above sea level.
Antenna's include:
C©4 on a 40' tower,
a 2 element 40 on another 20' tower,
3 el. tribander on a 10' push up mast.
Plus dipoles for 80 & 160 meters.
At 900' above sea level a tall tower is not needed!
---
WINDWOOD is the location of the famous WP2Z contest site.
This location can be rented by the week
and will accommodate 6 people.
There are 2 separate bed rooms
and 2 complete bath rooms.
I believe the couch folds out to a bed.
There is a complete kitchen.
The closest restaurant / bar is 15 minutes away,
with excellent restaurants in Christiansted
about 30 minutes drive.
Be prepared to drive on the left side of the road.
Contact Larry KE2VB for details on
renting this fabulous place.
---
The station is maintained by KE2VB,
with the help of other visiting operators.
Larry tries to keep a FT©1000D or FT©1000MP
going plus a IC©751A as backup.
The amplifier is an AL©82.
Also various computer equipment
plus all the contest logging programs one would need.
Also on site is a MFJ electronic keyer,
along with Heil boom headset.
Basically a complete station.
---
Lori and I stayed at Windwood for
Christmas week 1997 and 1998.
I made over 3,000 contacts in 97
and over 5,000 contacts in 98.
Ten meters was the band to be on in 98,
over 2,500 contacts were made on 10 meters alone.
The pileups of Europeans and Japanese
on 15 and 10 SSB were incredible,
and I was forced to " listen either UP or DOWN "
to keep the pileup under control.
Memorable contacts on 160 meters include:
9K2MU Kuwait and
4X4NJ Israel plus many Europeans.
80 meter SSB was great a few evenings to
Europe with many deep Russian
and Middle East stations logged.
I worked several KARS members including:
KB9MDL, I gave Mac a new 160 meter band country.
Don K9NR a new band country on 15.
Plus N9YSE, N9OQE and N9OKX on 10 meters.
I also worked Howard AK9F who drove
down to my station at home on 160 and 80.
---
This is it on the WP2/WB9Z station operations.
Click here and join Jerry now on a
tour to the eastern end of the island.
On to page 2 of 2.
I would like to show you some photos of
the BIGGEST DISH I have seen in person!
An 82 foot VLBA steerable dish antenna.
Click here to E-Mail
comments to Jerry WB9Z
Thanks for viewing these pages!
73' and best DX!!!