DXpedition to the Spratly Islands
Island of Layang Layang
The Midwest Perspective by WB9Z
Page 1 of 3
9
M
0
M
9M0M operators (L-R) Dennis AF7Y, Luis XE1L,
Dan NA7DB, Sally KM5EP, Jerry WB9Z
(Back Row) Darryl AF7O, Mike N7MB

---

Thanks for reading this.
Special thanks goes to Mike N7MB for inviting me.

Also special thanks to Dan NA7DB for all his organizing and
again to Mike for getting the 9M0M license and other planning.

Also, special thanks to my lovely XYL Lori
for helping me with all our arrangements.
I would have never made it to KP2, VP5, VK6,
VK9X, VK9Y, 9M6 and 9M0 without her.

These 3 pages are photos taken by myself
or wife Lori while we were in Spratly.
These pages are written from my (WB9Z) perspective.
We hope you enjoy these pages and ask you to
please check out the official 9M0M web site
after you are finished here at the KARS web site.
Thanks.

73' Jerry Rosalius WB9Z
The Lovely Ladies of
Layang Layang
(L-R) Stella 9M6JY
Malvin XE1L's wife

Janet NA7DB's wife
Sally KM5EP (NA7DB's sister)
Lori WB9Z's wife
The Antenna Farm
Some of the 11 verticals installed at 9M0M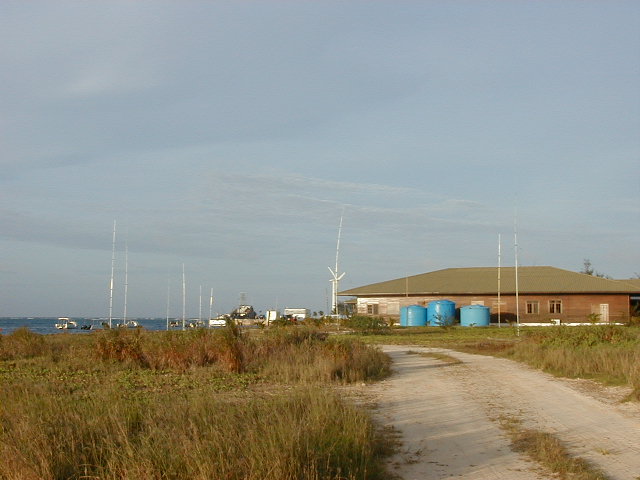 On 10, 15 and 20 meters there was a single parasitic element
installed with each driven element. The parasitic element could be
change from a reflector to a director by just walking out to the





antenna and changing the jumper near the base. There were also
single band verticals for 12, 17, 40 and 80. The 80 was also used
for 2 nights on 160 meters, with the help if a
inverted L wire and tuner by W8UVZ and W0CD.
The verticals were the only choice for antennas as we were very
limited on the weight of the freight we could take on the small plane.
The verticals worked amazingly well next to the salt water.
Thanks to Ken K2KW and Tom N6BT from FORCE 12

and Rich K7ZV for the use of their fine antennas.
More Antenna Farm
and Wind Turbine
17 meter vertical with a wind turbine and
Malaysian naval vessel in the background.



Since this is a disputed region of the world with
7 countries staking claims to the Spratly Islands,
the Malaysian military has a constant
military presence on Layang Layang Island.

On more than one occasion on we were
buzzed by low flying jets of the Malaysian Air Force. .
(Page 1 of 3)
Next (Page 2 of 3)

---

It is a pleasure for us here at KARS
to bring to you these DXPedition Pages
by Jerry, WB9Z.

Jerry's love of travel,
DX and contest operating
is obvious by the effort he puts
into all of his many ventures!

We hope you will come meet Jerry
where he will be greeting patrons of
the KARS Hamfest on July 8th 2001
in Peotone, Illinois at the
Will County Fairgrounds.

Jerry will have a great picture presentation
for you during the KARSFESTivities
---

Comments on the WB9Z's 9M0M Pages
"The Midwest Perspective?"
E-Mail Jerry, WB9Z
jerry@daca.net

E-Mail KARS Webmaster at
webmaster@w9az.com


This website is written in FRAMES.
If you are viewing this page as a separate page
please CLICK HERE for the KARS HOMEPAGE !
This usually occurs when you follow a link
from a search at a search engine website.